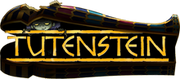 Tutenstein is an American children's animated television series, produced by Porchlight Entertainment for Discovery Kids based on the comics by Jay Stephens.
On October 11, 2008, a TV movie entitled Tutenstein: Clash of the Pharaohs aired on Discovery Kids.
Plot
The young mummy Tutankhensetamun (based on real-life Tutankhamun and usually called "Tutenstein" as in the title) who is awakened about 3,000 years after his accidental death and now must face the fact that his kingdom is gone.
Episodes
See: Episode List
Historical accuracy
Many of the gods portrayed in the series resemble their historical portrayals and all the Egyptian myths mentioned in the show are genuine. The Scepter of Was being portrayed as an all-purpose magic wand is fictional, though the Was itself is a genuine Egyptian symbol. Unlike Tutankhamun, who died at the age of 18, this Tut (Tutahnkensetamun) died when he was 10. On the other hand, Tutenstein is drawn with a cleft lip, just like the real Tutankhamun. The ancient game senet did exist, but as no precise rules for the game have been preserved, the rules as shown in the series are not accurate. Egyptologist Dr. Kasia Szpakowska served as a consultant to the series.